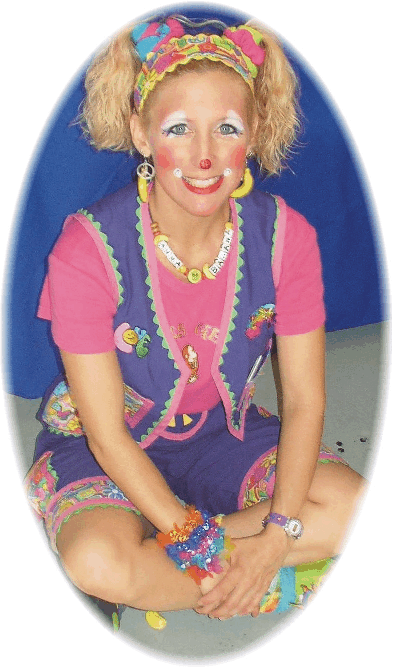 Hi... I'm Anna Banana "A Clown with A Peel" and welcome to my website!
I'm available for all occasions including Birthdays, Summer Camps, Corporate Events, etc. providing "bunches of fun" appropriate for all ages. Toddlers are my specialty! I perform at Kid's Parties in Broward, Miami-Dade & Palm Beach counties.
Anna Banana's events can contain any combination of the following services:
Silly Musical Fun Show-

(Suitable for ages 1-8) Inter-active silly music and dancing show filled with fun, upbeat songs! We "shake our sillies out" with this show using instruments, bubbles and

parachute play including a special song for the Birthday Child.

This show will entertain your guests for approximately 30-40 minutes..

Wacky Musical Fun & Games Show-

(Suitable for ages 4-9) Inter-active wacky dancing and games show filled with upbeat music from the Cheetah Girls, "High School Musical" and more! This show includes portions of our musical fun show and dances like the Cha Cha Slide and the Freeze Dance...Then we really we get the party started with some of my favorite Zany games including "Hot Banana", "T.P Pull" and a surprising twist on the traditional "Bubble Gum Blowing" Contest! This show will entertain your guests for a minimum of 45 minutes up to a fun-filled 2 hours!!

PRINCESS AND FAIRY THEME PARTIES-

Ask about Entertainment and Character options for your Birthday Girl's Special Day!

THE POSSIBILITIES ARE ENDLESS!!!!

Fantastic Face Painting

Temporary Tattoos

Fun-Filled Balloon Creations

And lots lots more!
If your event has a motorcycle theme or you just love motorcycles-Anna Banana will be happy to wear her custom designed Harley Davidson clown outfit to your special event.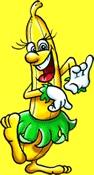 To learn more about Me be sure to check out my Bio page!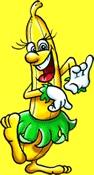 Anna banana, the clown Anna Banana, Anna Banana the clown for children's parties, toddler parties, birthday parties, children's entertainer, toddler friendly, tri-county, toddler entertainer, world clown association, clowns of America international, Professional clown, south Florida, Miami Dade, broward, plantation, Weston, palm beach, Boca Raton, Delray beach, coral gables, kids parties in south Florida, Ana Banana, the clown with A-Peel, kids, toddlers, children of all ages, clown association, school shows, camp shows, preschool, preschool parties, special occasions, Florida, clown, Harley-Davidson motorcycle party, temporary tattoos, west palm beach.
Check back soon because I will be making changes often!